Power NI has announced that it is increasing electricity prices for domestic customers by 6.1% from 1st October 2019. And with Power NI supplying over 458K homes across Northern Ireland (slightly more than 1 in every 2 homes) it means most people are facing higher energy bills as we head into winter.

What impact will this have?
So, what does 6.1% actually mean in terms of higher prices? Well following this announcement an average Power NI bill is set to increase by £35 to £600 per year.
And this is the latest in a series of price increases over recent years which means Power NI customers are paying more for their home electricity.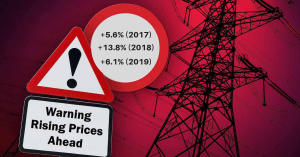 In October 2017 Power NI prices increased by 5.6% adding £27 to the average bill
In October 2018 Power NI prices increased by 13.8% adding £69 to the average bill
In October 2019 Power NI prices will increase by 6.1% adding £35 to the average bill
If you have been a Power NI customer over the last three years prices have increased in total by 25.5% adding a total of £131 to an average bill. Off course, it's important to remember other suppliers have also increased prices, but the fact is switching suppliers would have saved you money.

How to beat the price increases
If you have never switched or it's been a while you will save money by switching your electricity supplier or tariff.
Electricity customers could save up to £92 on their annual bill if they switch supplier – that would go some way to reducing the impact of these increases over recent years. With five electricity suppliers all offering a range of tariffs, discounts and cash-back offers finding a cheaper electricity deal is easy.
Get Switching
Switching is quick, hassle free and means you keep more money in your pocket. You don't even have to tell your old supplier you are leaving!!!
Power to Switch makes this easy for you – we compare all suppliers, tariffs and deals across Northern Ireland and can get your switch started in no time. It's free and only takes around 3 minutes to compare deals and find savings.
Don't put up with rising prices. Switch energy suppliers with www.powertoswitch.co.uk and start saving.