With five suppliers and almost thirty tariffs to choose from the electricity market in Northern Ireland is becoming more competitive. Price still tends to be the main thing we look for but many suppliers are trying to attract customers by making their offers more attractive. These include promotions such as cashbacks, welcome credit, loyalty payments, rewards and discount tickets for events such as concerts.
Despite better deals being available many people have never switched – around 40% according to the Utility Regulator. The simple truth is that if you have never switched or it's been a while you will save money by switching your electricity supplier or tariff. Switching is quick, hassle free and means you keep more money in your pocket.
 So what are the best deals available?
There are a range of offers available at the moment so it is worth taking some time to figure out which is best for you. To show the types of deal that are available we have provided two scenarios. (Prices are based on rates available from suppliers on 25th May 2019).
Firstly we compare tariff rates only – these offers are based on the amount you will pay for each unit of electricity used. The price (pence per kWh) and amount (units) of electricity you currently use will be set out in your electricity bill or statement.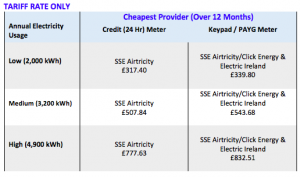 Next we compare tariff rates and cashback offers that are also available. Only cashback payments that are automatically made to your account within the first 12 months are included i.e. you don't have to take ay additional action to avail of the offer.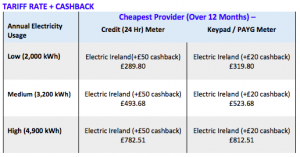 Helping you decide….
Whether you go for a tariff that gives you a discount rate or a tariff which provides a cashback is really a matter of personal preference – there is no right or wrong option. It's about switching to the best deal for you…really the one you are happiest with. Our message is that if you haven't switched either offer is going to be better than what you are on now.
At www.powertoswitch.co.uk we can help you decide. We have introduced a unique feature which allows you to compare savings by 'tariff rate only' or by 'tariff rate + Cashback offers'. Simply 'toggle' between the 'Sort: Tariff Rates' option displayed on the Result Page (under the Savings column) to see the difference cash-backs or tariff rates offers can make to your final energy bill.
And remember we compare all tariffs, deals and offers across all electricity suppliers in Northern Ireland to make sure you find the best deal and save money
Power to Switch – Giving you the Power over Home Energy Costs