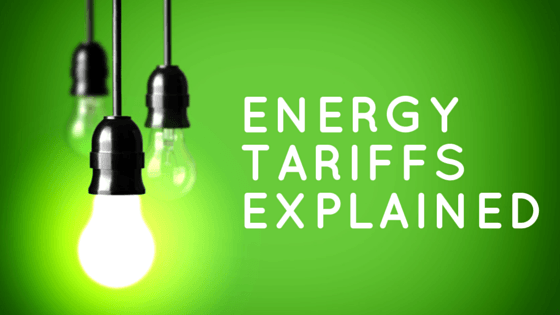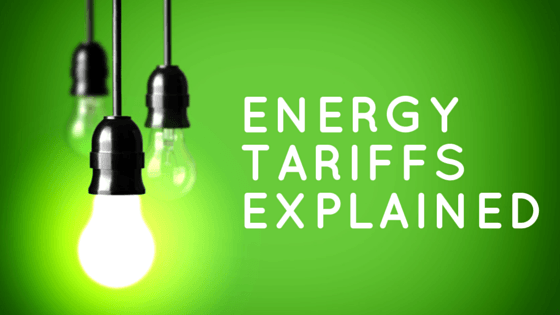 Don't know where to start when it comes to comparing energy tariffs? It can be confusing as different suppliers will have different tariff names, rates and terms. But there are a few main types of tariff – we have explained these in this blog which should help you when comparing deals.
Standard Rate Tariff 
'This is normally your energy supplier's 'default' tariff'
The standard tariff should be available on all payment methods and to both new and existing customers. If you have a fixed rate contract (e.g. 1 or 2 years) then the standard tariff is the rate you will normally be placed on once the contract terms has ended.
Standard tariffs do not have exit fees for leaving and your contract will have no fixed end date. The tariff can be a good option if you want flexibility and don't want to be tied down to a contract. But watch out for the cost…standard tariffs are not usually the supplier's cheapest and can increase or decrease.
Fixed Term Tariff (Contract)
'A fixed Term Tariff will charge a fixed price until a defined end date'
The tariff rate will remain 'fixed' (for example 12 or 24 months) regardless if the company announces price increases. Some fixed tariffs will have an exit fee if you leave before your contract end date. This tariff is a good option if you want certainty. Many suppliers offer fixed prices which are cheaper than their Standard Tariff Rate. But although you will benefit if prices increases by not facing higher rates the opposite will be true – you will not benefit from any price cuts whilst you are on a fixed tariff.
It also important to remember when your fixed term ends as you will usually be placed onto the standard tariff rate which will likely be more expensive.
Online Energy Tariffs
'Receive bills and manage your account online'
With online tariffs you will receive bills on-line (paperless) and may be required to submit meter readings online. The best tariff rate is also usually provided if payment is made by direct debit. By managing your account online, submitting meter reads online and paying by direct debit means the energy supplier may often offer a lower tariff compared to the standard rate. This tariff  can be a good option as the tariffs are usually cheaper and its handy if you can or prefer managing everything on-line.
Prepayment tariffs (Pay as You Go/PAYG)
'With Prepayment tariffs (PAYG) you pay for your energy before you use it'
Prepayment tariffs (PAYG) are quite popular in Northern Ireland. Payment usually takes the form of 'topping-up' a card at a range of locations such as shops, post offices, paypoint and payzone outlets. Also a 'top-up' can be purchased by phone from the supplier, or increasingly on-line or via an App.
Paying upfront for energy on a prepayment meter means no unexpected bills – it can also help track and monitor your energy usage. Some suppliers provide a discount or lower tariff for PAYG customers. Sometimes you may run out of credit at an inconvenient time for example in the evening or weekend. Most suppliers provide an 'emergency credit' so you will continue to be supplied with gas or electricity (e.g. £2 credit) allowing time for you to buy a top-up. The emergency credit is then repaid when you next top up (e.g. if you use up the emergency credit of £2 and then top up £10 you will have £8 credit remaining on your meter).
Economy 7 – Tariffs
'Economy 7 tariffs work by offering cheaper electricity at night'
Economy 7 tariffs used to be more popular but less than 5 per cent of homes remain on these tariffs. Economy 7 tariffs work by offering cheaper electricity at night, making them suitable for those working shifts, or who use a lot of electricity at night time. The '7' stands for the seven hours that the cheaper electricity is available, usually between midnight and 7am (or thereabouts).
As a general rule of thumb you need to use at least 50% of your electricity at night to make this tariff worthwhile so is not the best tariff for most people.
Economy 7 tariffs are not included as part of the Power to Switch comparison given so few people use this tariff and it requires personal considerations around lifestyle, time of energy use etc. Details of Economy 7 tariffs are available directly from the electricity supplier websites.
What should you do…
'Find out what tariff and unit rate you are on'
There can be up to £118 difference between the cheapest and most expensive deal with your supplier so making sure your on the best deal is important.
Look at your bill or annual statement to find out what actual tariff you are on and what rate you are paying. Any problems finding this then get in touch with your supplier who will be able to confirm these details.
Keeping you up to date….
As the market continues to develop other tariffs may become available for example 'dual-fuel' or 'Green energy' tariffs. As they do this guide will be updated to keep you informed of the options open to you