As we move into October, we begin to use a lot more energy in our homes…the heating and lights are turned on earlier as the darker and colder nights move in. And with many of us now spending more time at home due to Covide-19 it all adds up to one thing – higher energy bills.
But with a range of money saving deals now available switching electricity supplier is the quickest way to keep more money in your pocket this winter.
What are the best electricity deals available in Northern Ireland?
With five (and soon to be six) electricity suppliers and over thirty tariffs switching to a new electricity deal is the easiest way to reduce bills…so let's take a look at the best deals available right now in Northern Ireland.
Almost 60% of domestic customers in Northern Ireland are on a bill pay tariff with the rest choosing Pay as You Go (Keypad) tariff. All suppliers in Northern Ireland offer tariffs for both Bill Pay and Prepay and you can switch no matter what type of tariff you are on.
Below, we have picked out some of the best deals available right now for both bill pay and keypad.
Bill Pay Tariffs
First up, are bill pay tariffs – these offers are based on the amount you will pay for each unit of electricity used. The price (pence per kWh) and amount (units) of electricity you currently use will be set out in your electricity bill or statement.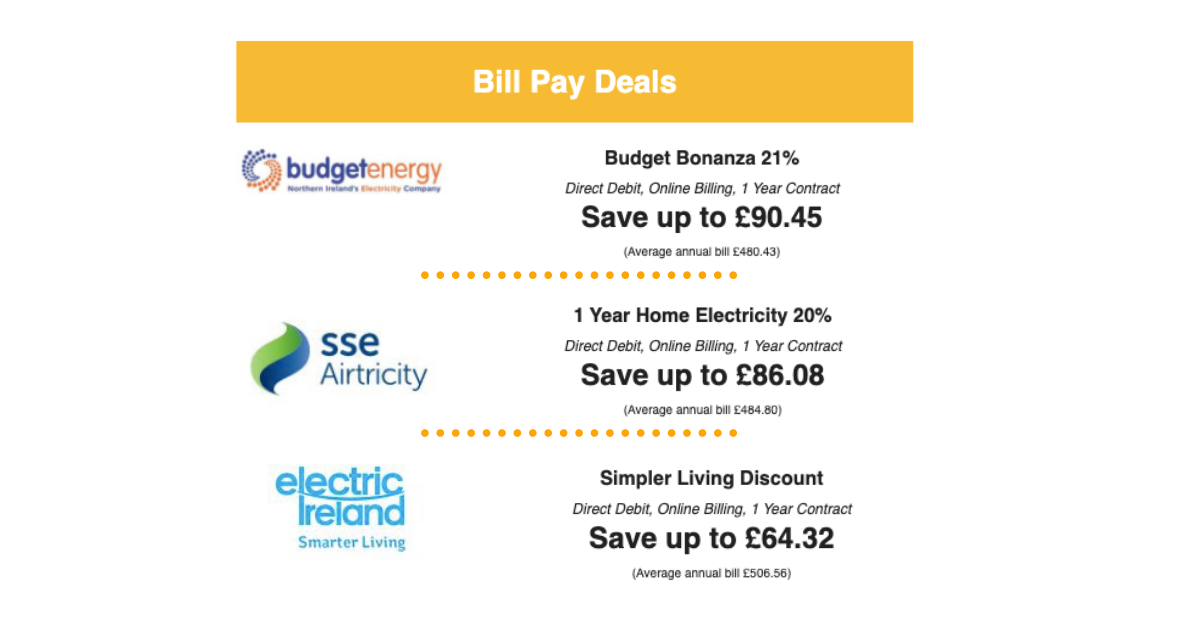 Pay as You Go Tariffs
Next, is Pay as You Go (PaYG) tariffs – with these tariffs you pay for your energy before you use it. And remember many PaYG deals come with free welcome credit so it's worth checking out what this means to your overall bill. On 'Power to Switch' you have the option to view all results with the value of cashbacks included – simply choose this option from results page.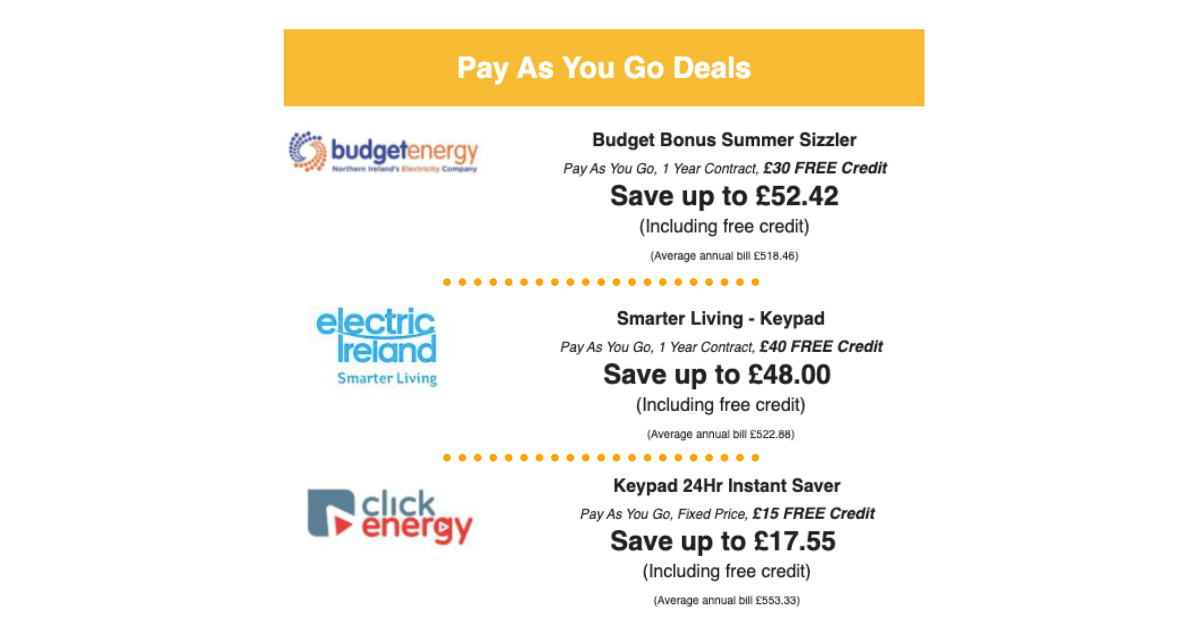 Don't overpay – cut energy bills now
 If you have never switched or it's been a while you will save by switching electricity supplier.
 At a time when energy usage in the home has increased its important to switch to make sure your bills don't increase as well.
At 'Power to Switch' we compare all tariffs, deals and offers across all electricity suppliers to make sure you find the best deal. Switching is quick, hassle-free and means you keep more money in your pocket. You don't even have to tell your old supplier you are leaving!!!
For more information, advice and support on energy issues visit www.powertoswitch.co.uk or follow us on facebook or twitter
Compare Electricity and Gas Prices
(Prices checked and correct – 30th September 2020)