Most callers to your door will be genuine … but the risk of bogus callers can be a worry especially older consumers. Age Sector Platform report that half of older people in Northern Ireland have become more fearful of falling victim to crime.
So how can you protect yourself? The Quick Check 101 scheme helps provides reassurance to members of the public about callers to their home.  Anyone who wishes to check the identity of someone calling at their door on the pretext of inspecting gas, electricity or water supplies can call the police non-emergency 101 number to verify their identity.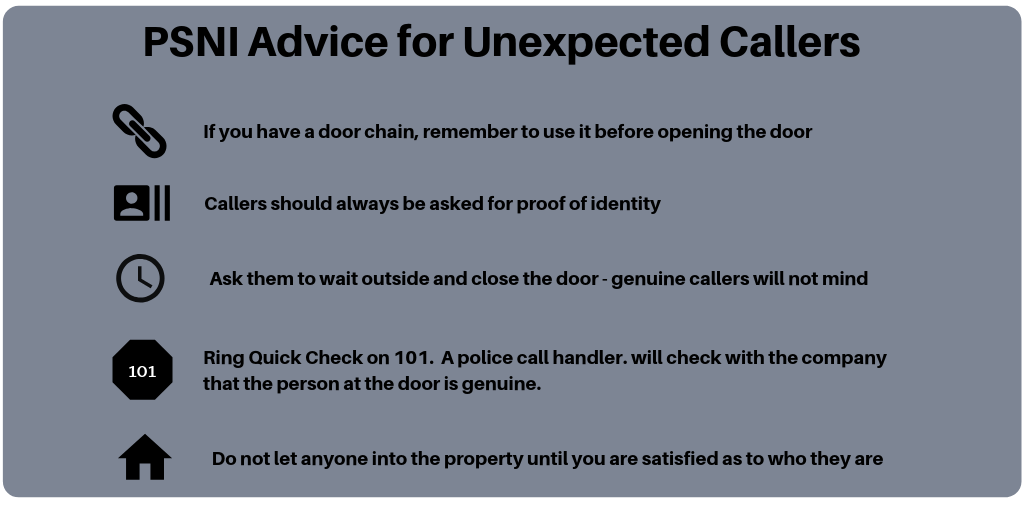 Your call is answered by a trained police call handler who will take the details of the company which the caller claims to be working for. The call handler will then contact the utility supplier to determine whether the caller is genuine. The Quick Check 101 scheme includes all of Northern Ireland's energy and water network companies – firmus energy, NIE Networks, Northern Ireland Water, Phoenix Natural Gas and SGN Natural Gas.Calls to the Quick Check 101 number from landlines or mobile phones cost 15 pence, regardless of the length of time you are on the phone or the time of the day you call. Members of the public should dial 028 9065 0222 if they are unable to dial 101.
www.powertoswitch.co.uk