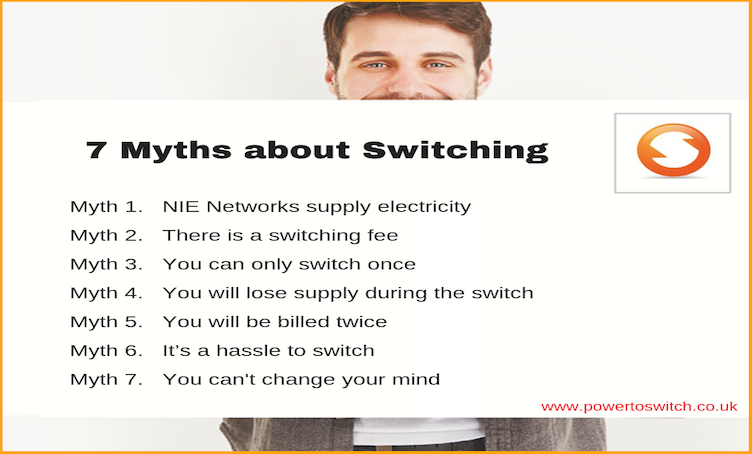 Although it may seem confusing comparing energy tariffs and switching is straightforward, especially if you use PowertoSwitch. Most people who switch supplier find it hassle-free, straightforward and would switch again.
But there are a few common myths which exist about switching…
Myth 1: NIE Networks supplies electricity
Northern Ireland Electricity (who owns the pylons, wires and meters) is totally separate from any of the electricity supply companies and therefore the electricity you receive will be the same regardless of your supplier.

Myth 2 'There's a switching fee'
There is no fee to switch energy supplier – its free and you can choose the supplier you wish.
Myth 3 'I can only switch once'
Unless you choose a fixed term contract (which you can still leave but may have an early exit fee) you can switch as many times as you like without any charge.
Myth 4: I'll have no supply during the actual switch'
There is no interruption at all to your supply and no changes to your wires, meter or connection
Myth 5: 'I'll be billed twice'
Your old and new energy companies agree on a switchover date to ensure that you will only be paying one of them at any time..
Myth 6: 'It's a hassle'
It takes about 3 minutes to find a better deal using Power to Switch. Once you choose a new deal you don't have to do anything further – your new supplier takes care of the switch and contacts your old supplier
Myth 7: 'I cant change my mind'
You have 10 days 'cooling-off' period to change you mind. The switch will usually be completed within 15 working days after the end of the cooling off period.

Power to Switch compares tariffs across all suppliers. We provide information on all tariffs, terms and conditions, payment options and customer reviews for each company. This makes choosing the best deal easy. To compare deals visit powertoswitch.co.uk or follow us on Facebook and Twitter.