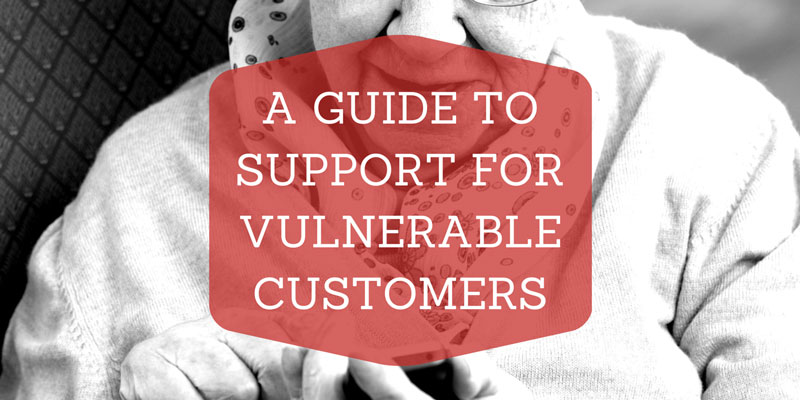 There is a range of support available to help vulnerable consumers. You may be vulnerable if you are a pensioner, disabled, chronically ill, or on a low-income. This guide provides information on the schemes available to vulnerable and low-income customers and explains how to access them.
The level and type of support available depends upon your circumstances. The measures will vary from time to time (and at different times of the year). Its important to keep an eye out for what schemes are in place as new ones start and old ones come to an end. So if you know of other support available please let 'Power to Switch' know and we can update our guides.
Services Provided by Energy Companies
Energy companies offer additional services for customers with specific needs.
Critical Care Register
Northern Ireland Electricity Networks (NIE Networks) operates a Critical Care Register to hold details of consumers who rely on electrical equipment for day to day care. This includes medical equipment such as oxygen concentrators, patient vital signs monitoring systems and home dialysis.
Add your details to this register to allow NIE Networks to prioritise your needs if your supply goes off. For a planned interruption NIE will contact you at least three days beforehand to let you know about the power cut or loss of supply you will be kept updated. In the event of an un-planned power cut your call will be given priority. NIE will contact you regularly during the power cut with up to date information.
NIE Networks (Critical Care) Telephone: 03457 643 643
Address: Northern Ireland Electricity 120 Malone Road, Belfast, BT9 5HT Minicom: 03457 147 128
E-mail: customercontact@nie.co.uk
Website: www.nie.co.uk
Customer Care Registers
All electricity and gas suppliers have a Customer Care Register which has the details and needs of vulnerable customers. Suppliers will provide assistance and specific support to customers who register their details with them. The list of services offered by each of the companies is listed in the tables below along with contact details so you can get on registered.
To see the services provided by each company through their Customer Care Register click here
Cold-Weather Support
Keeping warm and paying your energy bill can be a struggle for everyone but especially older or vulnerable consumers. They may need more heat to keep warm, be at home for longer or struggle to pay their bills.
Cold Weather Payment
If you're receiving certain benefits, you could qualify for extra money for each week there is very cold weather in your area. Cold Weather Payments, of £25 a week, are made automatically to people receiving qualifying benefits. That is, if the temperature in their postcode area is, or forecast to be, zero degrees or below for seven consecutive days.
Cold Weather Payments don't affect other benefits you may be getting. You will receive your Cold Weather Payment in the same way as you usually receive your benefit. There is no need to apply as payment will usually be made automatically.
Winter Fuel Payment
Winter Fuel Payment is an annual, one-off payment (between £100-£300) made to older people to help them to keep warm in winter. Winter Fuel Payments are paid to men and women who have reached the minimum age at which a woman can receive a state pension. They are not linked to temperature. This is different to Cold Weather Payments, which eligible people may get for each period of very cold weather in their postcode area
Winter Fuel Payment is not means tested. You can get it if you're working or claiming a benefit. If you already receive certain benefits, you don't need to claim and should receive an automatic payment. If you're eligible to receive Winter Fuel Payment for the first time and don't receive other benefits, you will need to claim. You can get a claim form from the NIDirect website.
Energy Grants and Assistance
There are a range of grants and support available from both the government and energy suppliers to help heat and insulate your home – check the energy grants page on 'Power to Switch' to find out what support is available.
Information and details on how to apply is provided on the Affordable Warmth scheme, Boiler Replacement, NISEP scheme and Renewable Heat Initiative.
Other Worries often Raised….
I'm worried about Carbon Monoxide poisoning – what should I do?
Carbon monoxide is an odourless, colourless gas produced by the incomplete combustion of any fossil fuel; wood, oil, gas or coal. Symptoms of carbon monoxide poisoning to look out for are headaches, nausea, dizziness, shortness of breath, collapse and loss of consciousness. Its important to fit a Carbon Monoxide alarm – audible ones are best – they are sold in many retail outlets including DIY/Hardware stores, online sales, supermarkets and trade retail stores. The prices can range from £20 to £30 each.
I'm worried about bogus callers in my area. What should I do?
Most callers are genuine but bogus callers can seem plausible and will try to fool you. All electricity' gas and water companies have a doorstep password scheme. A genuine caller will not object to you leaving them on the doorstep and closing the door while you confirm their identity. Ask for the password – If you have set one up with the company, use it.
Does the caller have an identification card?
If the caller does not have an identification card' ask the caller to go away and close the door. If the caller does have an identification card, ask to see it:
Examine the card to see if it looks genuine and check the expiry date
Does the photograph on the card match the person at the door?
Check the photograph is the original – has anything been stuck over it?
If you want to call their company, do not use the telephone number on the caller's identification card. Instead find the telephone number in your phone book, on a bill or call directory enquiries
Ask the company to confirm they have sent someone out to you. They will ask you for information about the identification card, what the caller looks like and may also ask for the date of birth or password of the caller.
If you need to get more information from the caller, leave the door chain on at all times.
Put your safety first and Remember' it is your home – If you are unsure' do not open the door and do not let the caller in.
Can I use an electric blanket to keep warm in bed?
If you have an electric blanket check what type it is – some are designed only to warm the bed before you get in and should not to be used throughout the night. Make sure your electric blanket is safe to use by getting it tested every three years – the Fire Brigade, Trading Standards and ageNI can test your electric blanket for safety