As the Utility Regulator release figures for the number of customers switching energy supplier we take a closer look at the trends and where people have been switching over the last 3 months.
What is a QTR!!!
Yes, it doesn't roll off the tongue. But the Utility Regulator publishes a Quarterly Transparency Report (QTR) which provides information about the electricity and gas market in Northern Ireland. Although there is a lot of detail in each report the part that often receives most attention is how suppliers have performed in terms of attracting new customers and holding on to existing ones!
Their latest report covers the period between October to December 2019. So, let's take a closer look at the stats and try to make sense of what has been happening…
NI Electricity Market 
The key point is that increasing numbers of people are choosing to switch their home electricity supplier. In the last three months of 2019 there were over 37,000 switches…up from 25,000 in the previous quarter.
Power NI remain the significant player in the market with 55.7% of the market but competition is having an impact. In the same period during 2018 their market share was 56.5%, and in 2017 it was at 58.7% so it has been gradually decreasing over the last few years.
In total there are five electricity suppliers to choose from for your home – and over the last few years SSE Aitricity (20%), Electric Ireland (11%), Budget Energy (9%) and Click Energy (3.4%) have all been successful in attracting customers to their offers. Competition is active with consumers moving between suppliers and being reactive to new offers in the market.
But the big winner during this reporting period seems to be Budget Energy. They have increased their customers numbers by over 11,000 – a really big jump in 3 months and appears to be on the back of new tariffs released to the market and attractive cashback deals of up to £100.
Take a look at our previous blog which looked at the Budget Energy Fixed Price tariff launched in September 2019. We also looked at the pros and cons of choosing a cashback deal over a low tariff rate.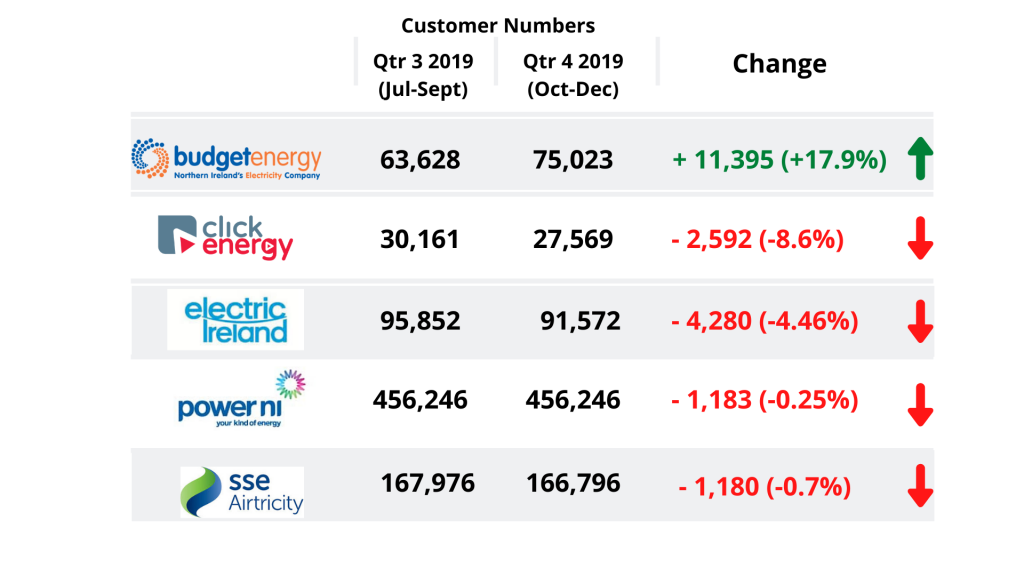 With five suppliers and over thirty tariffs switching to a new energy deal is one of the easiest and quickest way to save money…take a look at our recent review of the best electricity deals available right now
NI Gas Market 
Not everywhere in Northern Ireland that has natural gas can switch suppliers. At the moment this is limited to the Phoenix Natural Gas Network area which mainly covers Greater Belfast, Larne and the recent extension into East Down.
There are only two active suppliers in the domestic gas market in the Phoenix Gas Network area – SSE Airtricity Gas and Firmus Energy. And although the numbers switching in the last three months of 2019 are similar to the previous quarter overall switching levels remain low. Only 249 customers switched their gas supplier between October to December 2019 (0.1% of the market).
Helping you Choose
At 'Power to Switch' we compare all tariffs, deals and offers across all electricity suppliers to make sure you find the best deal. Switching is quick, hassle-free and means you keep more money in your pocket. You don't even have to tell your old supplier you are leaving!!!
 For more information on energy issues and switching visit www.powertoswitch.co.uk or follow us on facebook or twitter