Firmus energy have announced a third increase for gas customers in the 'Ten Towns' network area. Prices are set to increase from 3rd December…by a staggering 38.18%.
Although a further price rise was always likely it is the scale of the latest hike that will shock people, and many will genuinely be worried about how to keep warm this winter.
What does the price increase mean for customers?
An increase of 38.18% is a huge price hike for the 55,000 firmus energy customers across the Ten Towns area. This will result in a significant rise in bills and mean people will have to pay much more to stay warm this winter.
This increase will see the annual cost for a typical bill pay customer increase by around £268 per year. Customers with a prepayment gas meter (PAYG) will see an increase of around £255 per year.
What has been happening to prices this year?
This is the third increase this year in the ten towns network by firmus energy. A 17.75% increase came into effect on 1st April, and a further increase of 31.15% came into effect on 1st October.
In total customers have seen prices increase by a staggering 91% since April, increasing bills for customers by over £500 in real terms. The total increase to prices since April is actually higher than an annual gas bill this time last year! And unfortunately for the 55,000 domestic customers in the firmus gas network they will have to find the money for these higher bills as there is no other gas supplier to switch to.
Date
Price Change
Impact on Bills

1st April 2021

+17.75%

Bill Pay

+ £78

PAYG

+ £74

1st October 2021

+35.15%

Bill Pay

+ £183

PAYG

+ £175
3rd December 2021

+38.18%

Bill Pay

+ £268

PAYG

+ £255

What firmus energy have said…
Firmus energy have stated that the main driver for the price increase is due to rising wholesale costs which are beyond their control and make up a significant part of the final bill paid by each customer.
Dr David Dobbin, Chairman of firmus energy, said: 
"We very much regret having to increase our tariff however steep increases in global wholesale gas prices have forced our hand.
We know this is an unwelcome increase which will have a disproportionate effect on those of our customers who are the most vulnerable. We have been consulting with key stakeholders and will be introducing a support scheme to be delivered through a local charity which will offer targeted help to those most in need, especially over the winter period."  
I'm a firmus energy customer…what network am I in?
All this talk of gas networks may get confusing…so a quick recap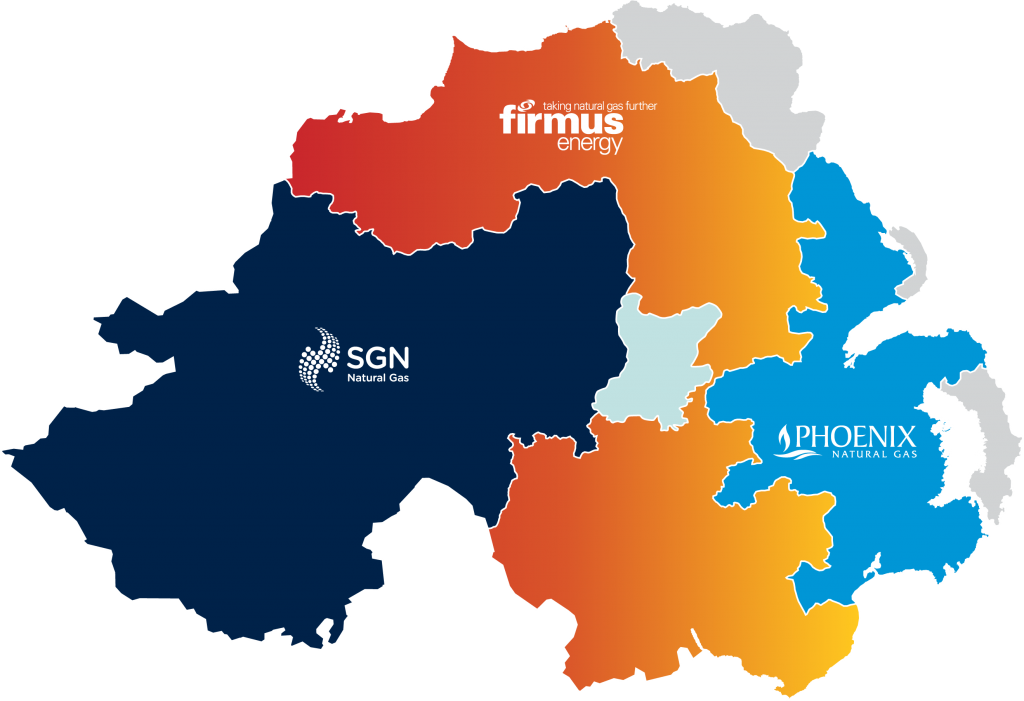 Northern Ireland is broken into three separate gas networks – these are the Greater Belfast area, the Ten Towns area and the West network area. Each is distinct and will have different suppliers, cost and tariff options.
The Ten Towns area is owned and manged by firmus energy and includes: Derry/Londonderry, Limavady, Coleraine (including Portstewart and Bushmills), Ballymoney, Ballymena (Broughshane), Antrim (including Ballyclare and Templepatrick), Craigavon (including Portadown and Lurgan), Banbridge, Newry (Warrenpoint), Armagh (Tandragee) and more than 25 other towns and villages in the surrounding area.
The Greater Belfast area covers: south, west, east and north Belfast; Carrickfergus; Newtownabbey; Duncrue and Harbour; Lisburn; Carryduff; Castlereagh; Newtownards; Larne; and North Down.
The West Network operated by SGN Natural Gas is bringing gas to areas including Coalisland, Cookstown, Dungannon, Magherafelt, Omagh, Enniskillen, Strabane and Derrylin.
Only firmus energy customers in the Ten Towns network are affected by this price increase. Customers in the Greater Belfast network area and in the West network area will not be impacted by this announcement.
Get in touch with your energy supplier
As everyone realises, we are living in uncertain times. It's important to get in touch with your energy supplier to discuss any payment issues or concerns and help manage your account. Even providing an up-to-date meter read can make sure your payments are accurate and up to date.
Finding a better deal…
At 'Power to Switch' we compare all tariffs and deals across all electricity suppliers to save you money. Switching is quick, hassle-free and means you keep more money in your pocket. You don't even have to tell your old supplier you are leaving!!!
For more information, advice and support on energy issues visit www.powertoswitch.co.uk or follow us on facebook or twitter
*based on annual consumption of 12,000kWh