Over winter we use a lot more energy in the home – the nights are darker, its colder and we spend more time indoors with the lights on and the heating cranked up. At this time of year it's no surprise energy bills are higher so it's more important than ever to be on the best deal for your home.
So, as you search out those Christmas bargains we wanted to let you know that 'Power to Switch' has an exclusive festive deal to help you save money on your electricity bill!
What's the deal?
For a limited time only Budget Energy is offering new customers signing up via www.powertoswitch.co.uk an exclusive offer – the 'Budget 24Hr Discount' deal – which comes with a 12.02% discount off their standard electricity unit rate.
This festive offer means you will pay just 15.71pence per kWh for your electricity – even with an annual standing charge of £29.23 this is the cheapest electricity deal available in the market right now.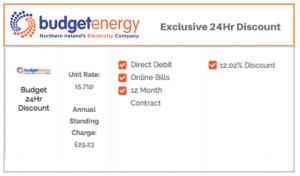 The discount lasts for 12 months – to get this deal you must be a bill pay customer (the offer is not available to PaYG customers), sign up for direct debit and agree to online billing.
How to I sign up?
This deal is only available online through 'Power to Switch'. Simply complete an online electricity comparison and select the 'Budget 24Hr Discount' tariff from the results page. Fill out the online switch form and thats is – your work is done and the switch will be underway.
Is this tariff right for me?
Although this is the cheapest electricity deal available right now if you are thinking of switching be sure to compare deals from all suppliers to make sure you get the very best deal for your own personal circumstances.
'Power to Switch' is free to use and we compare tariffs across all electricity and gas suppliers in Northern Ireland – this makes finding the best deal for your home really easy.
You just need to enter information about your current energy use, which energy supplier you're with and how you pay your bills. We'll then show you a list of available energy deals and offers, as well as how much you will save.
How else can I cut my energy bills?
Aside from switching, the next best way to cut down on your energy bills is to reduce how much energy you use and make your home energy efficient.
There are lots of 'low cost or no cost'  ways to conserve energy in the home, including sealing off draughts, closing the curtains to keep heat in, and closing doors between rooms to prevent heat escaping. You could also switch to energy-efficient lightbulbs, which use a fraction of the electricity that standard lightbulbs use.
Our energy saving tips can help you get started.
Finding the best deal…
At 'Power to Switch' we compare all tariffs, deals and offers across all electricity and gas suppliers to make sure you find the best deal. Switching is quick, hassle-free and means you keep more money in your pocket. You don't even have to tell your old supplier you are leaving!!!
It's free and only takes around 3 minutes to compare electricity prices and find savings. Don't put up with rising prices. Switch energy suppliers and start saving.
For more information, advice and support on energy issues visit www.powertoswitch.co.uk or follow us on facebook or twitter
(Prices checked and correct – 12th November 2019)
(*Budget Energy 'Budget 24Hr Discount' is an exclusive on-line offer only available through Power to Switch)